The Royal Academy of Engineering 'This is Engineering Day' is today November 3rd, which celebrates the work of engineers in the world around us. AML would like to acknowledge this day by welcoming three of our new apprentices and congratulating two past apprentices Dan Lord and Alex Cotton as they embark on their careers at AML.
Here we chat to Dan and Alex to find out more about their apprenticeship journey and what engineering means to them.
Q: Dan and Alex congratulations on completing your apprenticeships. What made you decide to do an apprenticeship with AML?
Dan' reply – The chance to work for a growing, innovative company and the challenges that come along with manufacturing difficult components were my main reasons for joining AML.
Alex's reply – For as long as I can remember I have always had a keen interest in engineering and wanted to pursue it as career. Upon leaving school I knew the best route for me would be to do an apprenticeship, but I didn't know what field of engineering. After visiting AML I was drawn in by the advanced technology they use and the kind of parts they manufacture – especially knowing some were for the aerospace industry. I then visited the AMRC training centre, which is where I undertook my training, again this was a place with the latest machinery and technology, and I knew from then this was the route I wanted to go.
Q: What does your current role involve?
Dan's reply – I am a Quality Engineer which involves the inspection and monitoring of product quality.
Alex's reply – Currently I work as a production engineer. This role involves looking at current projects that are running across shop floor and making them at efficient as possible. Whether this is by bringing cycle times down, maintaining conformance of parts, saving materials and many other ways.
Q: How valuable in your opinion is learning on the job and being hands on?
Dan's reply – I don't think there is a better way to learn than on the job. The lessons learnt from your own experience, as well as that of your colleagues, is far more valuable than anything taught in a textbook.
Alex's reply – I have always been practically minded so being in a classroom all the time didn't suit my style of learning. Being in an apprenticeship gives you the opportunity to learn new skills and techniques whilst being able to put these into practice. For me this is the most valuable way of learning and increases my interest in what is being taught.
Q: What is your favourite part about working for AML?
Dan's reply – AML provides the opportunity to work on interesting and varied projects across multiple sectors. The parts produced are often challenging and require you to be continuously learning. There is a great team at AML which makes it an enjoyable place to work.
Alex's reply – My favourite part about working for AML is that every day is different, which means I am constantly learning. Also, AML has a great team of people which are always willing to help each other out. This makes an enjoyable work environment to be in.
Dr Gareth Morgan, Managing Director at AML Sheffield comments "Our people are our biggest asset. We utilise the very latest technology to manufacture the highest quality precision parts to support the factories of the future. We could not excel at this without continued investment in our people."
AML was originally a spin-out from the award-winning Advanced Manufacturing Research Centre (AMRC) at the University of Sheffield, so we  value highly our close links with the AMRC training centre which assists us in developing new talent and supporting future generations. We are a people focussed advanced manufacturing provider, that wins business by being the earliest adopter of the latest technology.  This approach challenges the traditional manufacturing base through the introduction of new techniques and leads to cost saving opportunities for our customers.
This method can create win/win scenarios across all aspects of the high value manufacturing supply chain and AML proudly supports the following 3 specialist sectors: Aerospace, Energy, Defence.
More about 'This is Engineering Day'
This year, 'This is Engineering Day' lands at the start of COP26, the United Nations Climate Change Conference, being hosted by the UK in Glasgow. It is a chance for all UN countries to agree how to tackle climate change and more than 190 world leaders will set goals for 2050. Meeting the COP26 ambition of making the world net zero by 2050 will affect us all. From how we build our homes and cities, how we source energy and how we travel, our future lives will be shaped by engineers and engineering. The Royal Academy of Engineering will be asking 'What will a net zero world look like in 2050 and how are engineers part of the picture?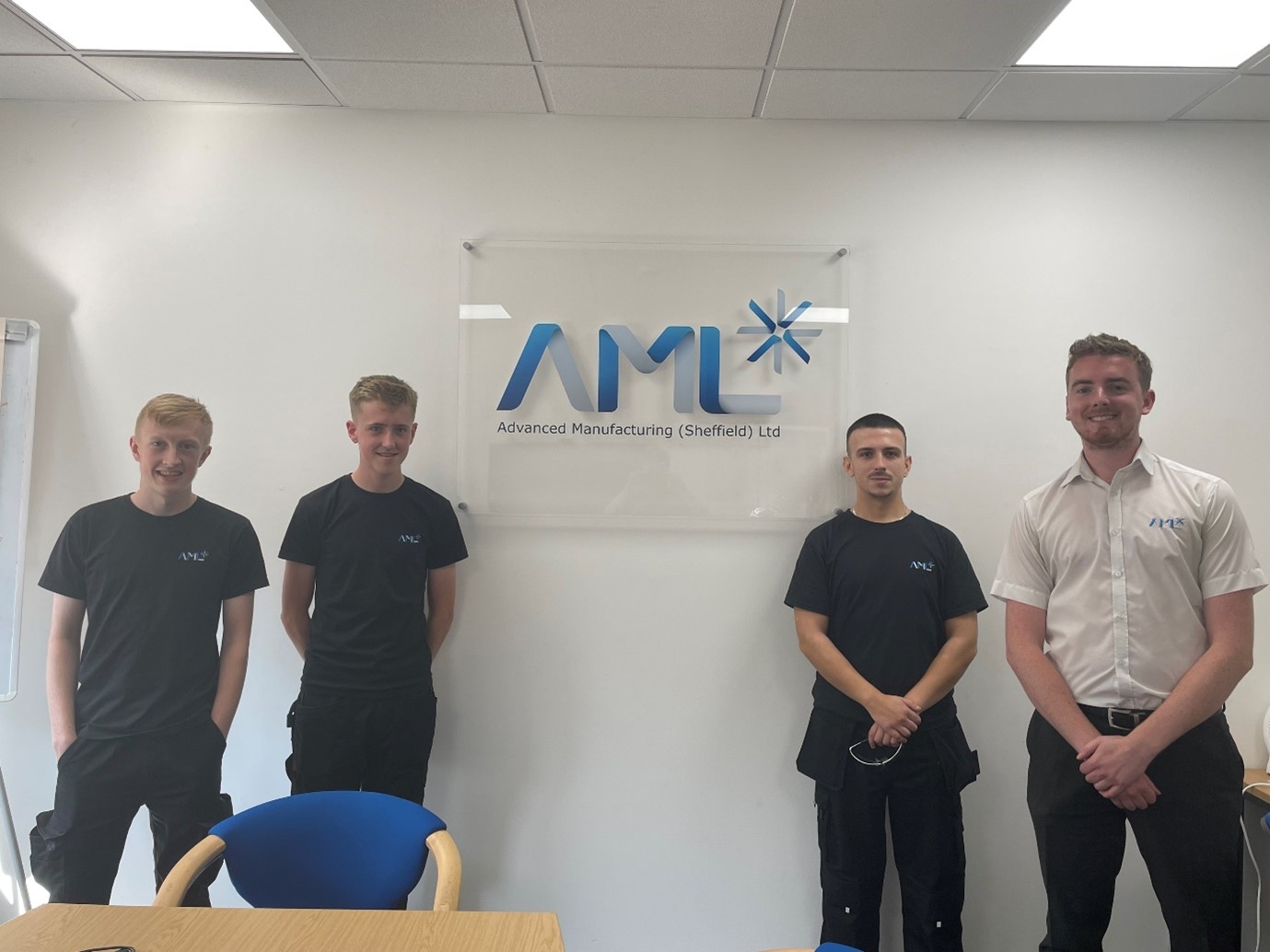 3 new AML apprentices pictured with Alex Cotton, Production Manager who joined AML as a graduate