AML is proud to have recently been invited to Derby to meet the senior team at Rolls-Royce, where we congratulated and recognised for outstanding contribution to the newest Rolls-Royce engine. Dr Gareth Morgan, MD at AML comments "At AML we continue to invest in advanced manufacturing, we are excited for all the opportunities and growth ahead of us". AML supported the delivery of the first UltraFan Demo Shafts, LPCRSS IPCRSS Fan Retention and PGB Input Cone machined components.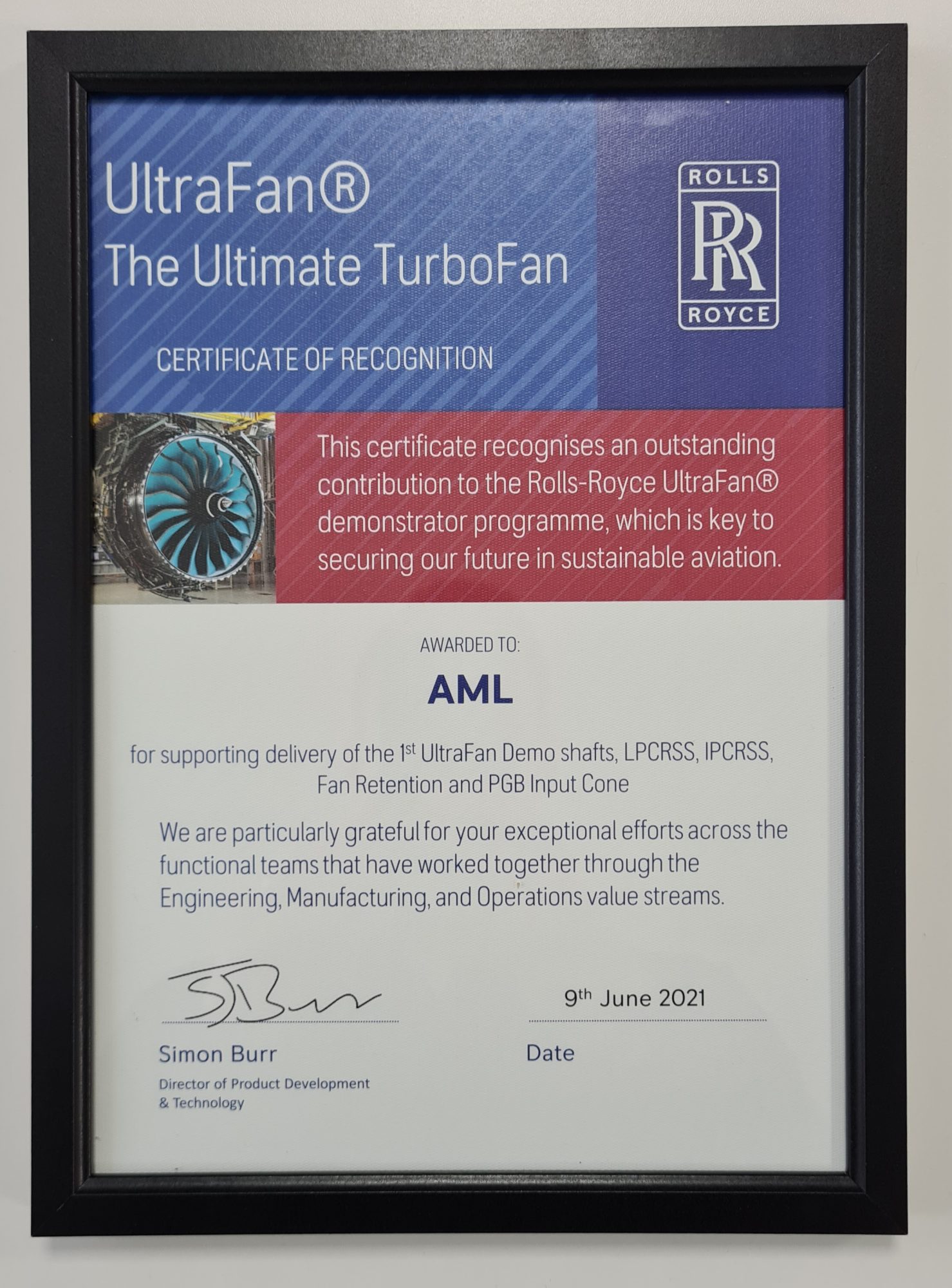 About the Rolls Royce Ultra Fan engine
Rolls-Royce has begun the process of building the world's largest aero-engine, UltraFan, which will be revolutionary when it comes to sustainable air travel in the future. The UltraFan is currently being manufactured in Derby, and aims to be completed by the end of this year.
This new engine will form the basis of a new family of UltraFan engines which will be capable of powering multiple types of aircraft, whilst also offering a 25% fuel efficiency improvement compared with previous models. This sustainability will be crucial in the aviation industry's goal to see greater sustainability.
About AML Sheffield
AML is an advanced manufacturing supplier specialising in the development of manufacturing solutions and production services for a number of prestigious blue-chip clients. Originally a spin-out from the award-winning Advanced Manufacturing Research Centre (AMRC) at the University of Sheffield, AML is now recognised as a market leader in delivering flexible manufacturing capability at the leading edge of machining services and efficiencies, with particular expertise in aerospace, defence, and energy components. AML is the engineering milling industry expert when it comes to manufacturing precision components, and services multiple industries including the aerospace industry.